Why Do You Need a Mobile
Mecha
nic?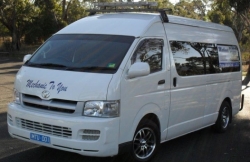 There are two scenarios where a Mobile Mechanic can save you so much time and effort.
The first is where your car has broken down and needs urgent attention. The second is where you want to prevent that very thing from happening. Whichever situation you find yourself in, you can save yourself time, money and effort by calling Hobart's professional mobile mechanic – Mechanic To You.
When your car breaks down or needs a service, do you have trouble with any of these?
* Getting to work on time
* Dropping off or picking up the kids
* Delivering your car to the mechanics work shop
* Organising to pick up the car when service completed
Well forget all that, as our name suggests Mechanic To You will arrange to come to your address – either your home or business – to get your car in top condition. Our Mobile workshop contains just about everything we need to fix most problems on the spot. However if your car needs some serious repair work, we can carry out the work at our workshop in Derwent Park (by appointment only).
At Mechanic To You we pride ourselves on having many satisfied customers who, once they have tried our service, return again and again whenever they need their car serviced or have other mechanical requirements.
Pre Purchase Inspection
Another excellent service we offer is our "Pre Purchase Inspection". Nothing could be worse than purchasing a second hand car that looks fantastic but then falls apart two weeks after the sale. Just give us a a call at Mechanic To You and we will arrange to inspect the vehicle and give you a comprehensive report.
Log Book Servicing
If you have purchased a new vehicle and need regular servicing we offer complete "log book" service to keep your prize new possession running well. Maintaining your regular servicing will add dollars to the resale value of your car.
With over 20 years of experience in the automotive industry Mechanic To You guarantee a capable, reliable and professional service that is the best around. Contact us today…